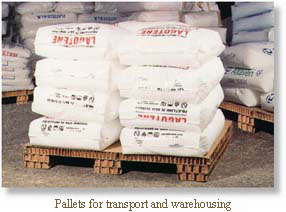 CARTOFLEX PALLETS do not require fumigation. They are insect free, an indispensable condition required in many countries. When treated with resins, CARTOFLEX PALLETS become water resistant and, as any used paper, they are easily disposed and recycled.
They are available in various measurements and in three different forms.

PALLETS manufactured with CARTOFLEX PANELS free your loads from damages caused by nails and splinters always present in the traditional wooden pallets.

The surface of CARTOFLEX PALLETS are totally flat and without openings, providing uniform stability to your products.┼font>

CARTOFLEX PALLETS are very easy to handle and maneuver. Each PALLET weighs less than 9 pounds which allows for great savings in air freight.